Heavy Duty Water Proof 20 Foot and 40 Foot Shipping Container Tarps
Delta Mark has an extensive library of 20' and 40' open top Container tarp options in our program. We have an inventory of open top containers for sale of different sizes ( 20′ & 40′) and can supply your shipping container or storage container business with virtually any shipping container tarp cover design available. Our shipping container covers are custom made using high quality 600 grams per square meter (approximately 20 oz. per square yard) PVC Coated Polyester Fabric which is the standard used by most shipping lines and steel container owners (leasing companies) in the overseas shipping industry today.
We can also supply a heavier duty (22 oz. per square yard) PVC tarpaulin material should you require that extra level of strength and protection for your open-top cargo and or storage equipment that will be covered by open-top container tarps. Please contact us for your storage container cover needs for both open top sea and and storage Containers. Our open top shipping container roof covers are trusted by many major leasing companies for their open top shipping containers, such as Triton international to name one from our growing client list. We provide both 20 foot, and 40-foot tarpaulins and TIR Cables to accommodate both container sizes. Delta Mark's heavy duty shipping container tarps are waterproof and durable and will keep your cargo and valuables inside your shipping and storage containers protected from the elements.
We also provide a variety of tarp repair accessories, including the galvanized Steel 40 mm tarp Grommets, Tarp Hole Cutters, Grommet installation tools, TIR Certified Tarp repair patches and a special hot air (tarp patch) welding kit to do both extensive as well as important emergency repairs on your shipping container tarpaulins when needed.
If you're looking for the best shipping container covers, then look no further. Our waterproof roof tarps are the perfect solution to keeping all that your business needs to transport on track every time. Contact our experts today to learn more about our shipping container tarps or any of our other intermodal container parts.
Our open top container tarpaulins put to good use.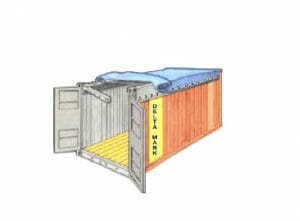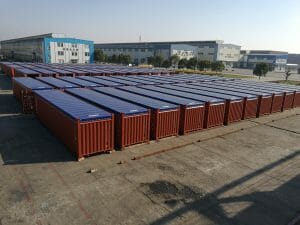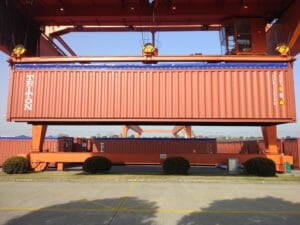 Shipping Tarp Inventory