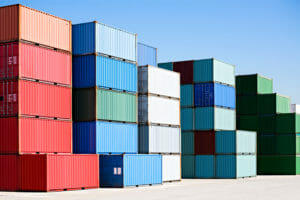 Delta Mark is one of a kind when it comes to providing high-quality new and used ISO containers for sale in North America that are great for intermodal transportation or shipping container homes. Our used and new shipping containers can handle whatever requirements or needs your business has. Delta Mark's 20 ft & 40f ft ISO shipping containers provide various features such as versatility, reliability, security, and convenience. When buying semi containers, it's important to consider these three questions.
First, how big of a truck and trailer container do you need (20' or 40')? What are the shipping container's specific dimensions? Secondly, do you want a new or used cargo container? Thirdly, do you just want a standard iso storage container or one with accessories such as multiple access doors, roll up doors or simple man doors?
We at Delta Mark pride ourselves in being able to supply intermodal containers all over the U.S. They can be delivered on both flatbed and tilt bed trucks (we do whatever works best for our customers). Our ISO containers are reliable and are constructed from steel. The 20 ft shipping containers for sale in our inventory can store a variety of items and materials, from household items to farm equipment, to tools and equipment at construction sites, or even cars.
Different Uses of Our Iso Shipping Containers For Sale
These 20' and 40' containers can even be converted into living spaces and offices. We believe versatility is an understatement when describing our products. Whether you're looking for a used ISO shipping container or a brand new one, reach out to Delta Mark to get started.
What does it cost to buy a new or used shipping container?
Contact us today to discuss shipping container sizes, types, and new and used cargo container costs and any other questions you may have about buying a shipping container.
Sea Containers For Sale
20′ New Shipping Containers / Used 20′ Storage