Shipping Container Locking Pins For Sale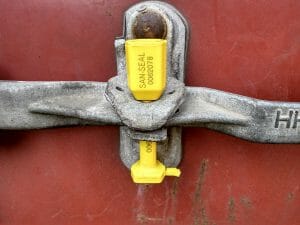 The excessive highway travel that your cargo containers will endure can definitely take a toll on them. If you work with cargo containers, you will need replacement parts. Delta Mark offers many high quality shipping container locking pins.
Our replacement iso container twist locks and shipping container pins are built to ensure that your containers stay securely rigged when being transported. They are an essential shipping container door part. Our inventory of container securing products is sure to the flatbed container locks you are looking for.
Sea Container Locks For Old & New Containers
Have old shipping container locks? Old shipping container twist lock stacking pins are no problem at all. We offer parts for storage container chassis twist locks built in the 70's and 80's. We have blueprints for all of our container parts detailed with their specs. If you're not sure which flatbed container lock is right for you then one of our experts will certainly be able to help you find exactly the shipping container locking mechanism you need, and we're happy to answer any questions you have about twist locking, sea container twist lock installation, container twist lock specifications, positions, and dimensions as well. Contact us today.
Twist Lock Specifications & Dimensions Below
Twistlocks & Pins 1105_1 (PDF View)
Twistlocks & Pins 1105_2 (PDF View)