Shipping Container Paint Inventory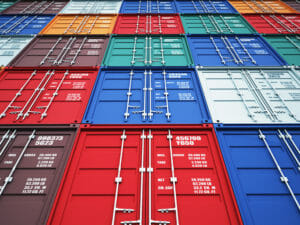 Delta Mark offers CMP coating for both shipping container and Cargo Ship Paints. CMP is one of the most widely used high performance shipping container paint specifications for painting shipping containers in the world.
The CMP shipping container paint for sale in our inventory is produced right here in the USA. We are a container paint supplier offering many standard shipping container paint colors as well as custom colors if needed, ideal for metal surfaces, and painting the outside, and inside of a shipping container. They are all capable of lasting a long time and preventing rust. Our premade inventory contains 60 different CMP coating colors, giving many different options when it comes to shipping container painting, whether your painting the outside or inside of your container, shipping container doors or any part of your shipping container with our coats of paint.
If you need assistance choosing the right shipping container roof paint, then let our experts help! Paint for shipping containers is a passion of ours.
We can help you decide what the best type of paint for your shipping and freight containers is. Delta Mark's CMP paint is a one coat system (that is, it has a built-in primer) to ensure a strong, durable and rust resistant protective coating with a shiny finish. See the chart below to get an idea of which CMP Coating color works best for your containers.
Don't see the color you need for your shipping container roof paint? Let us know what colors you'd like and we will do our best to custom make the exact color you're looking for.  Once you've decided on the perfect CMP coating for your Container's interior and exterior, let Delta Mark also help you with outfitting your containers with decals, custom logos, container markings, CSC Plates and the many other container parts and accessories we provide.
We are dedicated to providing you with the best exterior shipping container touch up paint for your freight containers. Contact our experts with whatever questions you have about painting a shipping container, shipping container colors, and all other shipping container paint specification questions you may have.